Family Testimonies
The Chapman Family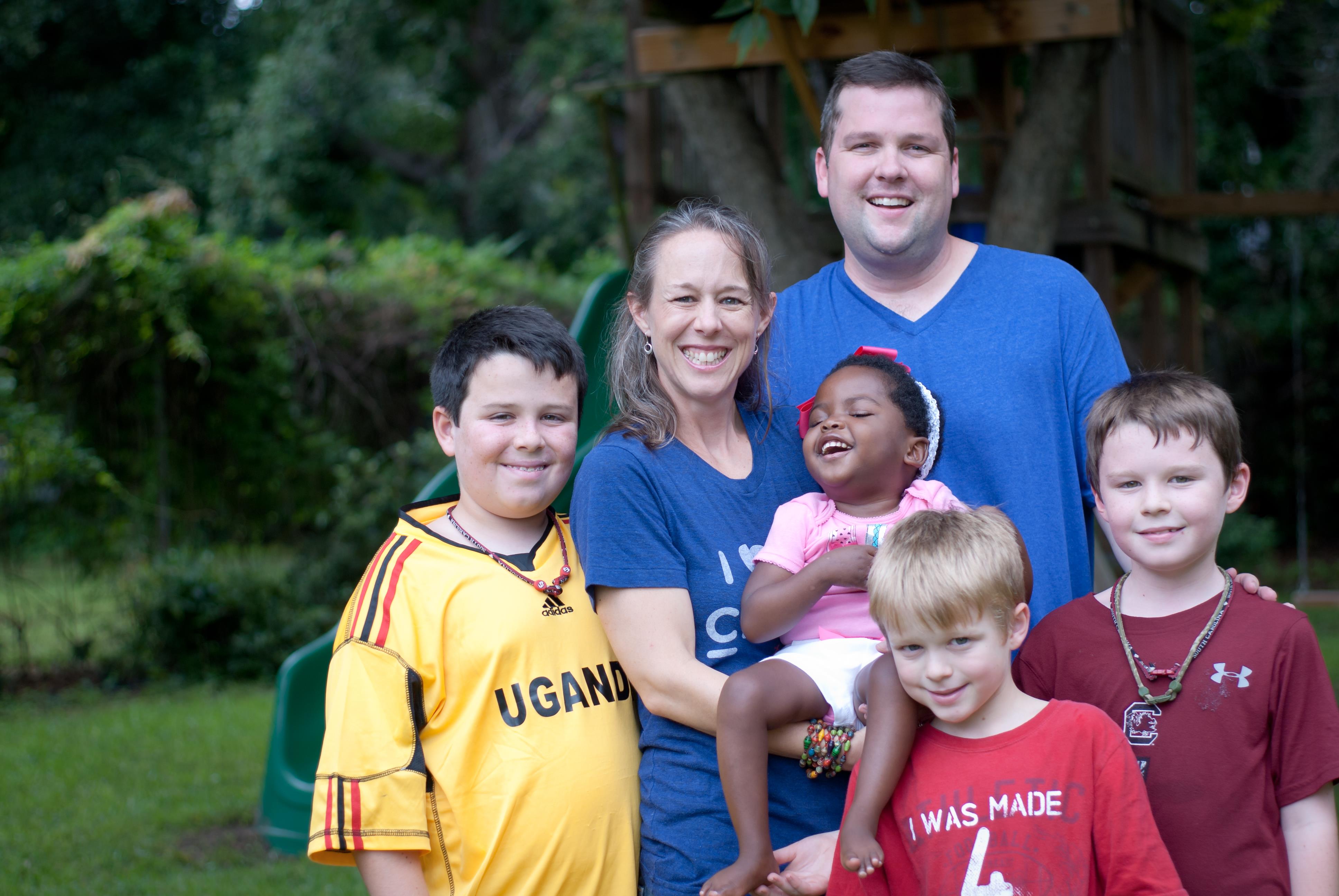 Our adoption journey began in October 2010, when we went to an informational meeting about adoption. We submitted our application in January 2011 to adopt from Uganda and arrived home with Suubi Anne Chapman on August 2, 2013. While our process took much longer than we imagined, the Lord used it to stretch and grow us and widen the boundaries of our hearts.
We were open to adopting a child with special needs but did not truly anticipate what the Lord had in mind. We strongly felt that we would name our little girl Hope. We prayed for her and throughout the twists and turns of our journey clung to the verse Romans 15:13, which says, "May the God of hope fill you with all joy and peace as you trust in him, so that you may overflow with hope by the power of the Holy Spirit."
We had a possible referral fall through and also were matched domestically with a birth parent who decided to parent. Our hearts were healing when we were asked to look at and consider Suubi's file. We honestly were initially not sure if we felt capable of parenting her with so many uncertainties regarding her possible special needs.
Click here to view more of their family's testimony!
The Eden Family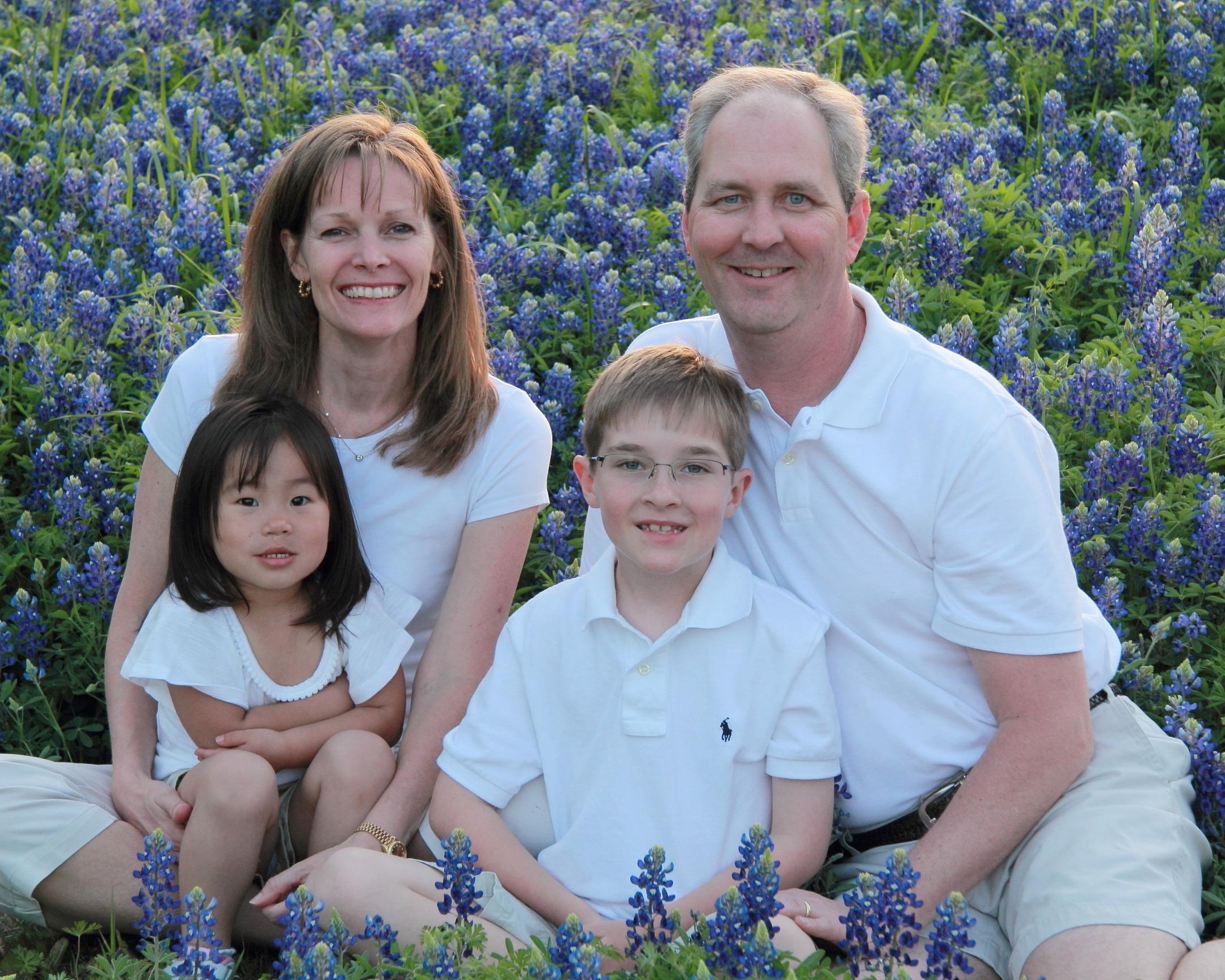 Our adoption journey started on February 7, 2004, the day our son was born. Despite a healthy and normal pregnancy, the delivery became complicated and ended with our son in the NICU and me in the ICU post hysterectomy. My husband and I had never even thought about adopting a child, but God had a special plan for our family. He knew there was a child on the other side of the world that would need a family and He used this traumatic day for good.
After some time, my husband and I began to seriously consider the possibility of adoption. For many reasons, we felt led to an international adoption. In 2006 our church hosted an adoption seminar by Nightlight. At about the same time our church had also started doing mission work in China. Many circumstances began to present themselves which made it clear to us that China was the place to pursue our adoption. In January 2007 we officially started our paperwork and began a new chapter in our life. Our official log in date was September 5, 2007. When we started our paperwork it was approximately an 18 month wait to referral for your child. Totally doable! Right?!? Little did we know then that things were going to drastically change. As the wait for a match continued to grow, so did our disappointment and frustration. During this time a couple of opportunities for domestic adoptions presented themselves, though again, with much disappointment none worked out for our family. With the passage of time we now see that God had a bigger plan for our family.
Click here to view more of their family's testimony!
The Karsky Family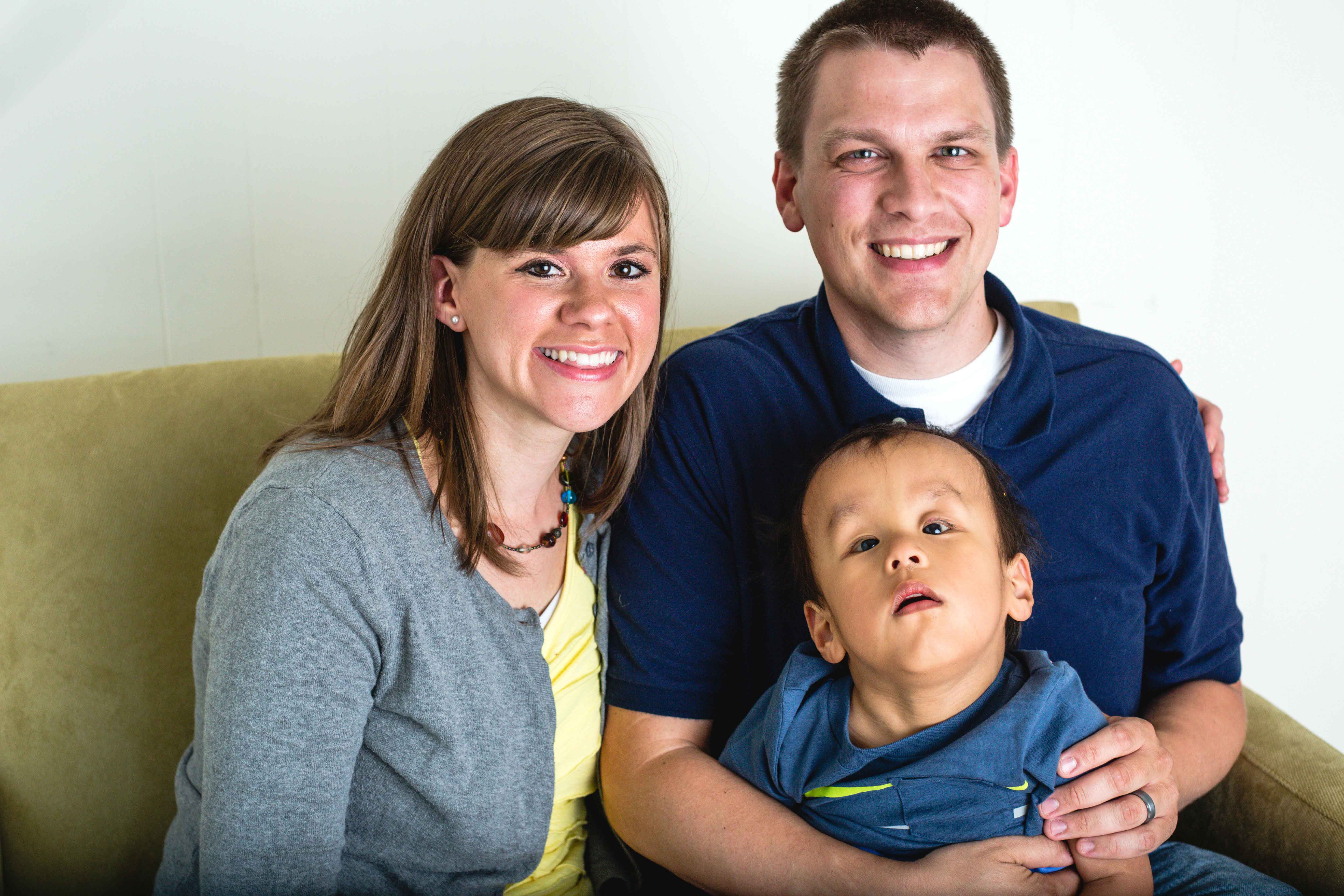 It started in the Fall of 2010. My husband, Andy, and I received an email update from some friends of ours who had been living in China. Their letter spoke of a tiny baby boy they called JB that they had been fostering for over a year. He had many needs, but in their care he was growing and thriving. Their letter spoke of how they had been advocating for him to be adopted and were looking for a family to love this child as their own forever. Andy and I both had that moment of wondering if we were meant to be this boy's parents. I heard that whisper from God, and I confess that my first response was to shake it off and pretend it was not a plan for me. Adoption seemed to be something other people did, it seemed too scary, and there were too many unknowns. After a quick search of Chinese adoptions, we learned that prospective parents needed to be married for two years and each be thirty years old. At the time we had been married just over a year and were "only" 27 and 28 years old. In our minds we thought surely another family would come forward before we ever met the requirements to adopt. We thought this door was closed.
Click here to view more of their family's testimony!
The Broughton Family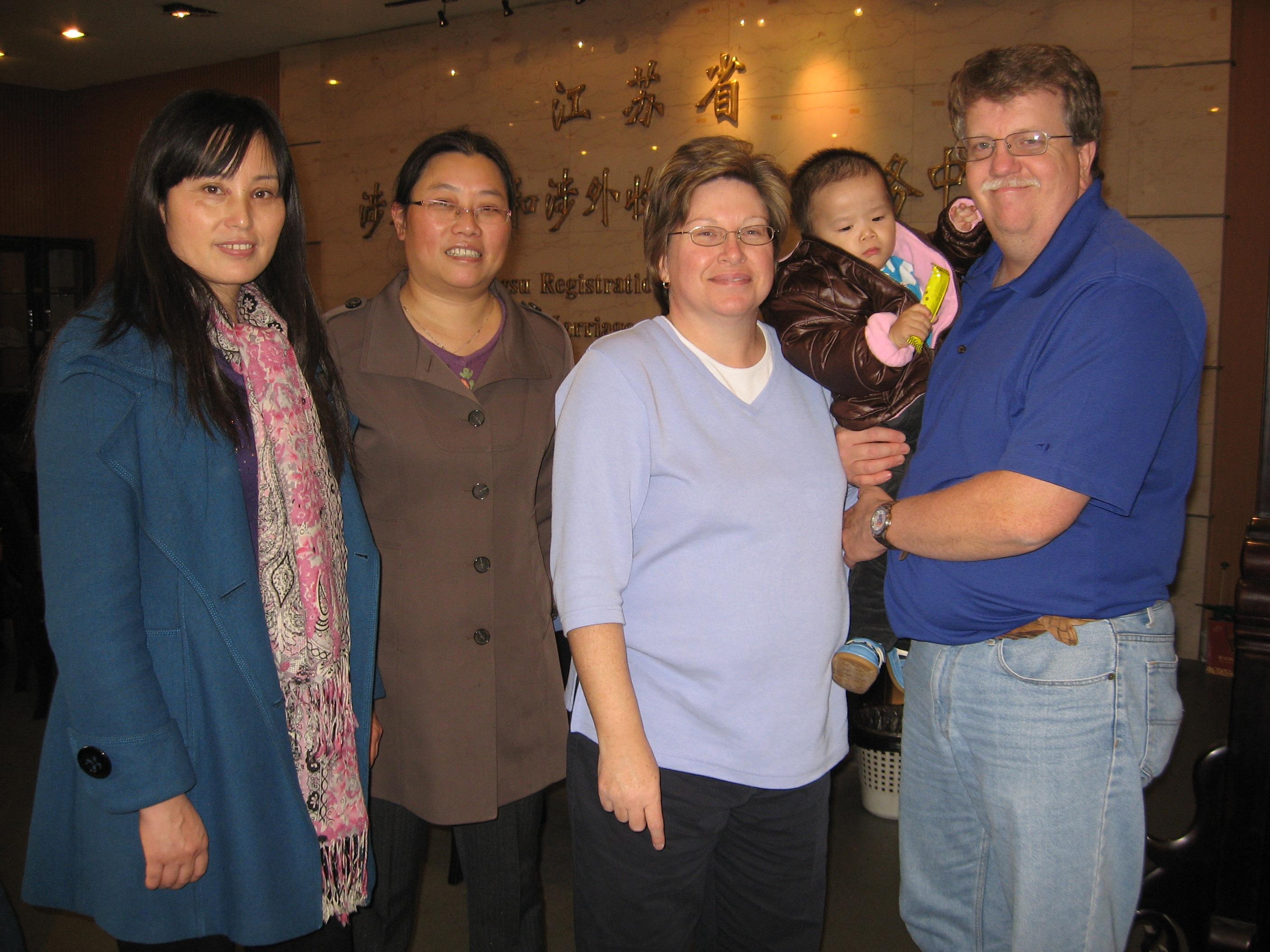 "Someone once told me that 'Adoption is not for the faint of heart.' Little did I know how true that statement would be!"
My husband, Steve, and I began our adoption journey in November 2008 when we attended our first adoption seminar in Columbus, OH. This seminar opened up our eyes to see the need to adopt whether it was an international or domestic. After lots of prayer and research into the various avenues of adoption programs (foster care, domestic or international) we decided on international adoption from The Peoples Republic of China. We learned that the time frame for international adoption for a healthy girl was 2-3 years. We chose A Helping Hand Adoption Agency because it is close to us in hopes that this would help with any questions/issues that would arise in the future.
We began the "paperwork pregnancy" in February of 2009. The paperwork (dossier) included medical checkups for each parent, financial information, employment verification, birth and marriage verification's as well as criminal background checks from all states that we had lived in as well as our current state of Kentucky. We also had to make a trip to the Immigration office in Louisville, KY for fingerprinting. Who would have thought that all this paperwork was necessary for an adoption???? Certainly I did not.
~ Kayla Broughton
Click here to view more of their family's testimony!
The Melver Family (Featured on ABCNEWS.com)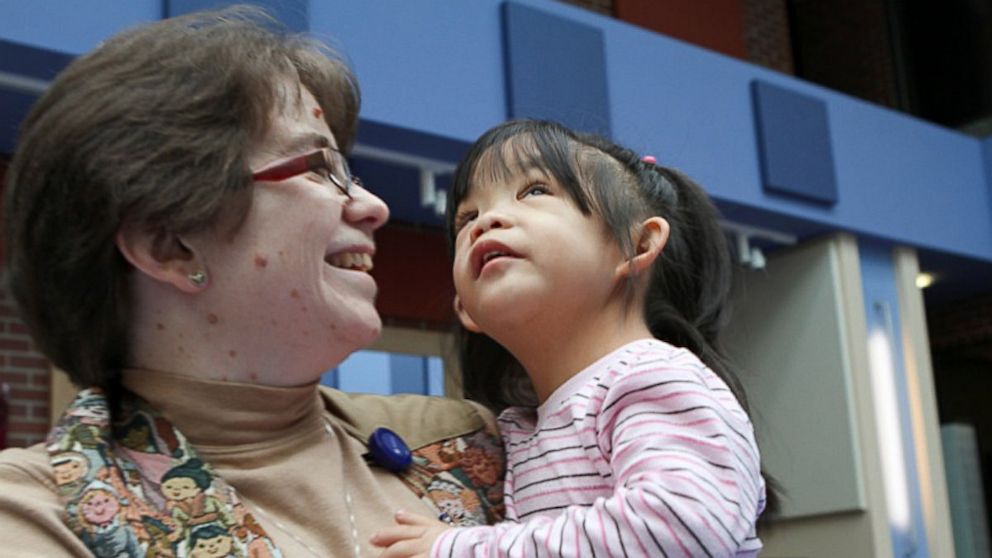 Check out this lovely story from one of our families.
Turner Syndrome Tot Wins Life's Lottery: "Dr. Catherine Ward-Melver has known since she was young that she would be unable to have children. At 4-foot 8-inches tall, she was born with Turner syndrome, a genetic condition that causes short stature and, among other things, malformation of the ovaries.
Ward-Melver, who is a geneticist at Akron Children's Hospital in Ohio, had never met another girl with Turner syndrome until she went to medical school. But now, she has adopted 4-year-old Zoe, who also has the condition."
(excerpt from abcnews.com, click to read more)
The Keath Family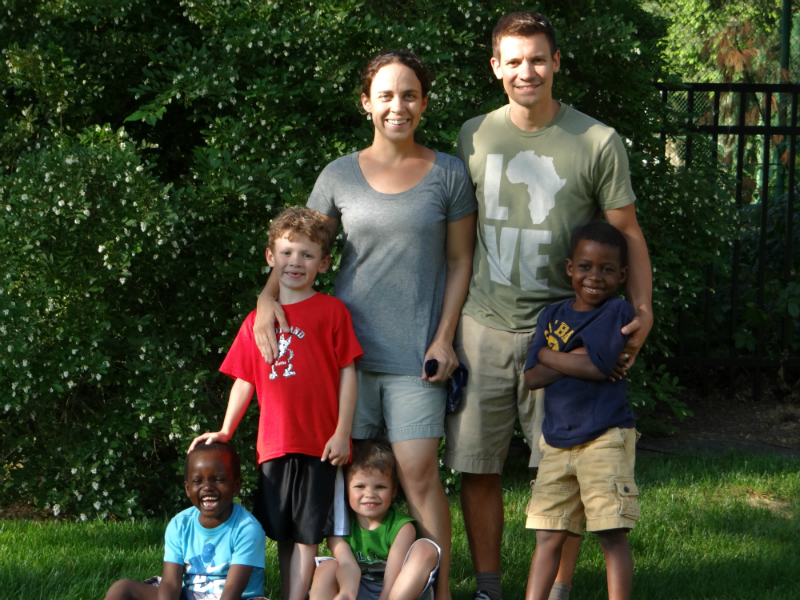 Adam and Melanie initially were interested in adopting children under the age of four years old. When they heard about two brothers in Uganda named Aaron (approximately age 7) and Enoch (approximately age 5), they committed their decision to prayer. They felt the Lord calling them to adopt these boys. They immediately began the work of having their home study updated and educating themselves about adopting older children. Adam and Melanie arrived home with Aaron and Enoch on May 15, 2013. They have seen favor and miracles all along their adoption story. Below is Adam's account of their day in court:
Court was miraculous today…literally. We waited about 2 hours past our scheduled time and then saw the judge for another 2+ hours. It was the first time anyone from our agency had gone before him, and admittedly there were some nerves. But, our lawyer is the best in the biz, all the witnesses showed up (even the child's ailing grandmother and their previous caretaker from Juba). That in itself is a miracle. But what was most amazing was that the judge turned out to be best friends with our babies home director's late parents…he was in disbelief that this man was standing before him that he could literally remember the day of his birth, the place his parents met and had watched him play as a child. He got to share with the judge his story and passion for beginning his ministry and the judge said that he intended to actually visit the baby home in the future. He was serious about it and this was a shocking circumstance, and an emotional one at that. What is even more amazing is that the director's affidavit was placed on the top of the stack in error, and had it been filed properly the judge never would have seen it or known he was even in the room. Praise God. He orchestrated this from the beginning the meeting and from that point forward, the whole crowd had favor with this man. The testimony of the woman from Juba was emotional. She loves these boys so much that she traveled to Kampala just to be here and it turns out she was the only person other than Melanie (this is Adam writing by the way) and the director that the judge chose to interview. Her story almost brought him to tears. You must realize all of this is very out of the ordinary. This was God from the first word.
Additionally he was very pleased with our effort to engage the boys' Uganda culture. He literally thanked us and referred to this case as "the best of the best."
We are so grateful for the prayers of hundreds that we would find favor today. They were so obvious!
It was also so good to meet and be loved on by people who have known our boys. We got to take many pictures and will have an amazing story to tell them one day! These are beautiful people, most of whom have nothing, that have sacrificed everything for the good of our kids since their mother died. Praise God for them!
And praise Him with us for this significant connection between this new judge and our baby home. This is no doubt a really big deal moving forward for the incredible ministry we are affiliated with.
The Mason Family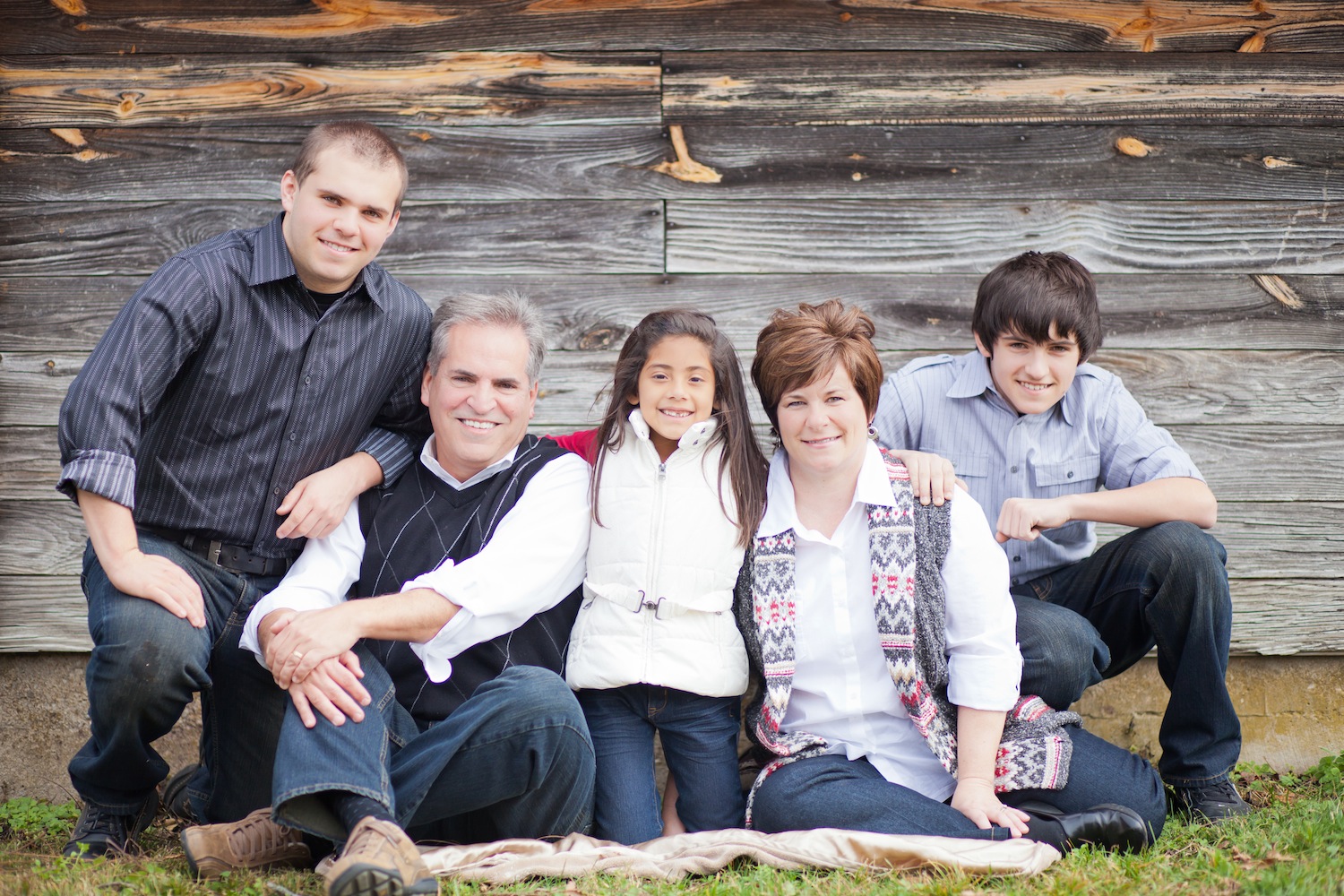 ALMOST FROM THE BEGINNING OF OUR MOVE TO LOUISVILLE, KY IN 2000, RAY AND I FELT GOD TUGGING AT OUR HEARTSTRINGS AFTER HE PLACED NEW FRIENDS WITH ADOPTED CHILDREN IN OUR PATH.
Over and over we witnessed the joy in the hearts of adoptive parents and their newly created families. When our biological sons were ages nine and seven we began praying about adding to our family, and it wasn't long before we were led to international adoption. Initially, we looked into China. With two young boys at home and no family nearby to take care of them, we decided it would be too difficult to travel and stay for the duration of time needed to adopt from China. Guatemala seemed like a good fit for us because the adoption process was shorter, we could visit our child during the paperwork process, and the in-country time for adoption was only a few days.
With Guatemala as our destination, we searched for an adoption agency that was Christian-based, would keep us connected to our child's culture and heritage, and was invested in giving back to the country. We selected Nightlight (formerly A Helping Hand) in Lexington, KY and began the long application process including many trips to Frankfort for authentication of documents. The hardest part of the process was the uncertainty associated with bureaucratic setbacks especially those in the hands of the Guatemalan government.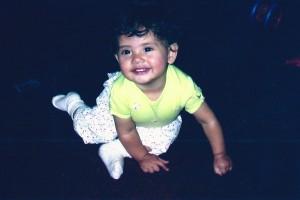 Ray and I prayed throughout the 15 month process, and we knew God was going before us. We trusted His plan to give us the child He wanted us to raise. I kept in connection with other families waiting to bring their child home via an online Guatemala adoptive family blog. Our impatience was somewhat eased by seeing the success stories of others, and we knew our time would come. The waiting was so hard. Some days I would sit at my computer and periodically press the "refresh" button for my email—waiting anxiously for some news from our agency whether or not we passed the next step in the process. In May of 2005, I received the long awaited phone call from our agency telling me they had a child for Ray and me to consider. Consider?? Really?? God's mighty hand was all over this. Guatemalan orphans were usually relinquished at birth. This precious little girl was given up at six months old. The agency immediately emailed us three pictures of a sweet smiling 6-month old girl in a yellow gingham outfit. We treasured those three pictures for months! The agency told Ray and I to pray overnight and call in the morning with our answer. Needless to say, we couldn't sleep that night. All we kept wanting was for morning to come so we could accept this precious child of God! We knew she was the one for us!
After three more months of waiting for more paperwork to be finalized in Guatemala, we were given the go-ahead to travel and visit her. We took our boys with us and spent a four-day weekend in Guatemala City getting to know our soon-to-be daughter. If ever we doubted God's existence it was answered the moment we set eyes on Abbie. How could we instantly love a child we had never met? Only God's grace could make that possible. The boys were so excited. We had her all to ourselves for four days! The four of us enjoyed those days getting to know her—playing in the pool, eating meals together, sleeping in the same room, playing on the floor of our hotel room with toys we had brought, dressing her in "girlie" clothes, and strolling with her around the hotel. We didn't want to let her go, but we knew she was well cared for by her foster family. We would be back soon.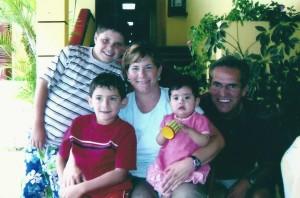 Another three months later, we were notified of our travel date to bring Abbie home! That long anticipated day was finally here! Ray and I traveled alone to Guatemala this time while the boys stayed home with my mom. On October 24, 2005—the day we arrived in Guatemala—we had our sweet girl in our arms. No one else planned that "gotcha" day except God. It happened to be Abbie's first birthday! Her foster family was very sad to see her go. We had all kinds of emotions that day—sad for Abbie to say goodbye to the people with whom she had spent the last six months, heartbreak for her foster parents, excitement and anxiousness for what we were experiencing in this new journey with our daughter.
Ray and I anticipated a three-day stay, but God had other plans. We experienced some "hiccups" with getting Abbie's visa at the US Embassy. Each day we awoke in the hotel, we hoped we would receive news to be able to return home. In the end, we would wait seven more unanticipated days to finally get to leave for the United States. Looking back, Ray and I had been blessed with ten wonderful days to bond with our sweet girl before bringing her into the activity of our home with the two boys. God knew we needed that time before we did. When we walked through the door on November 1, 2005, my mother and the boys were there to greet us. The boys loved on her from the moment she came through the door. We found it to be a good thing the boys had met her on our previous trip. They felt they had some connection with her before she came home. My mother just cried tears of joy. Abbie was home!
Within a few days, she went from being a shy, reserved, quiet, snuggle bug to a busy, curious, loving bundle of joy. We couldn't have asked for a smoother transition. Ray and I felt truly blessed considering we had been prepared for a rough transition. Abbie has been part of our family for seven and a half years. She brings happiness and laughter to our home with her sense of humor, heart for God, and joy for life. She loves music, hugging, playing all kinds of sports, having friends over, playing all sorts of games, and being outdoors. We are involved in a Latin American adoption group in our area, and Abbie enjoys getting together with other children who are adopted like her. She seems to form a bond with those she meets from Latin America and, thankfully, doesn't see herself as being different that the rest of our family.
We plan to return to Guatemala and physically "give back" to the country in some way in the near future. Abbie has also expressed an interest in seeing where she was born. In the meantime, we find peace in giving financially to the mission team from A Helping Hand who travels to Guatemala.
I am most in awe of the love God has given Ray and me for this precious child we did not birth. Even though we have two biological children, we love all of our children the same. I can admit that often I forget I did not give birth to her. I never stop thanking God for this adoption and the precious gifts He has on loan to us—whether biological or adopted. We feel especially blessed to have been given both.
Abigail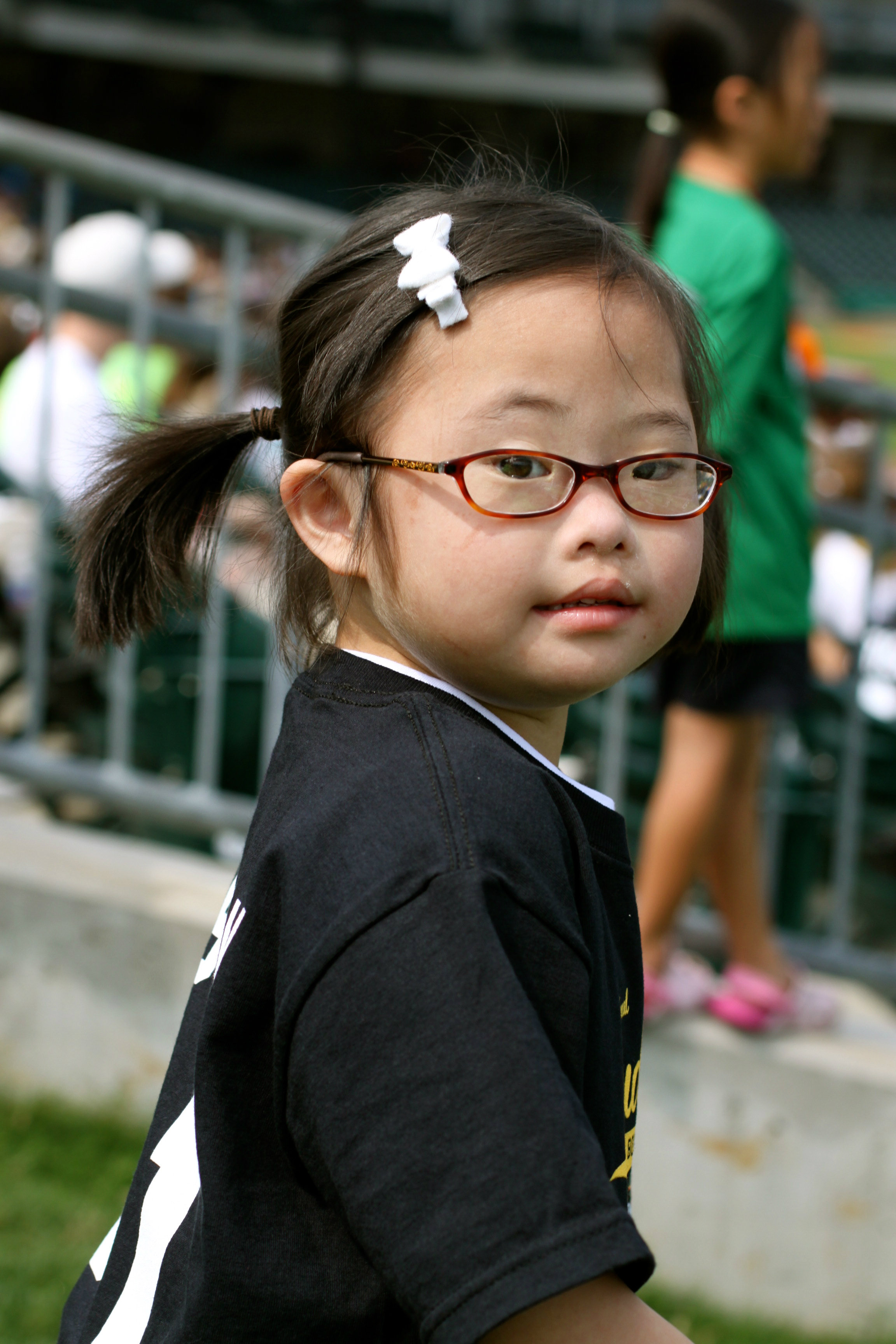 Gary and Kimberly began the adoption process in 2006 with plans to adopt a healthy baby girl through traditional China program. As the wait grew longer, Gary and Kimberly were pleased to discover that they were pregnant. They then called and put their adoption with AHH on hold. Later, Gary and Kimberly learned that their son Aiden would be born with Down Syndrome. Gary and Kimberly had to adjust their expectations to face new parenting challenges. After Aiden's birth, they questioned the need to adopt, but having him in their lives has shown them that all people, despite their disabilities, deserve a home and a loving family. They felt that God had shown them that they were meant to adopt a child with Down Syndrome. Gary and Kimberly contacted AHH in May of 2011 to continue the adoption process but this time to adopt a child with Down Syndrome. According to Gary and Kimberly, "Aiden is such a wonderful blessing to us, and we want to give another child with Down Syndrome the same love and affection Aiden gets and a home where she can achieve and be all she is able to become." They were matched with Song Xinyi in August of 2011 and received their official Letter of Acceptance from China in October 2011. On March 19th 2012, Gary and Kimberly welcomed their daughter Abigail (age 4) into their arms and into her forever home.
Bella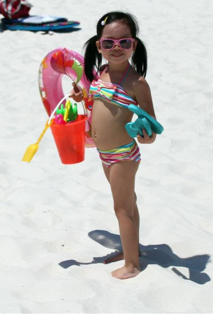 Bella is 4 years old and has been home with her family since April 2012.
We had no idea what Thalassemia was when we first received the call from Nightlight Christian Adoptions asking if we would consider adopting Long Luoyue. After talking with a doctor at the International Adoption Clinic in Birmingham, and consulting with our health insurance provider, we prayed. Our hearts were connected with our new daughter Bella Catherine Long Luoyue Pearson and we immediately began to pursue adopting her.
We continued to read and learn about Thalassemia as we prepared for Bella. For two healthy parents with a healthy teenager, the thought of regular blood transfusions was a bit daunting. However, we've had Bella home since April 7, 2012 and after having a few transfusions under our belt, we have now set aside all fears.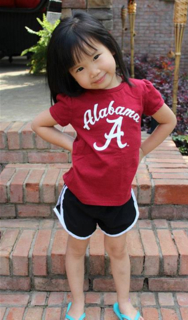 Initially diagnosed as beta-Thalassemia major, we prepared for regular, life-sustaining transfusions. Today, her diagnosis has been changed to beta-Thalassemia intermediate which means her body does produce some good blood. Although she is still having regular transfusions at this point, those may decrease over time. Bella is one of only three children in our state with Thalassemia.
Thalassemia is certainly treatable and can be kept in check through blood transfusions. Transfusion days are simply a minor inconvenience in an otherwise normal and healthy child's life.
Bella is full of life. She giggles, plays, sings and dances incessantly. She loves life and no one would ever question if she is healthy by her appearance or energy level. Our friends in the adoption community are amazed that she is even considered a "special needs" child when they first meet her. Our family is beyond blessed because we said "Yes!" to matching with Bella. We pray that through this focus and through Bella's story, more and more children with Thalassemia will be adopted into forever families.
The Barnes Family

I guess just like every young girl, we all daydream about our future family. Wondering whom we will marry and how many children we will someday have. We do not know what kind of plan God has for each of us because never in my wildest dreams did I think that one day I would travel half way around the world for my beautiful daughter Elizabeth.
In September 1987 I married my high school sweetheart; Andy, and we had 1 son in 1989. After Anthony was born for some reason we were unable to conceive another child. For 10 years we struggled through this pain of wondering why this was happening and what we were being punished for. Andy handled the pain with just deciding that he did not want any more children. While I silently prayed every day that one day we would know the joy of having another child. I knew that I wanted Anthony to have a sibling, to not be alone one day when Andy and I were gone from this world.
One day in church while I was teaching Sunday school it hit me. God has three answers to all prayers yes, no, and maybe. The maybe meaning that you might have to wait for awhile. I decided to wait for the right time, not to give up but just be patient. Then one day Andy came to me and said he was ready for another child. We had talked in the past about adoption but never checked into it. Andy heard on the radio that there was going to be an Adoption Seminar at the Lexington Mall. We went and sat through hours of lecture. I think the international part was the last one to be spoken about. Andy never sat through this much lecture before. It seemed like when the lady spoke about China, and all the little girls that were in the orphanage it just did something to Andy and me. Neither one of us said anything at the time. We just went back out to the tables and picked up all the pamphlets we could find. On the way home I sorted through all the agencies and found A Helping Hand Adoption Agency who handled China Adoptions. When I showed it to Andy, it was like we knew that this was the agency and the route we were being led to take. There was never a second guess or thought about it.

I immediately called and requested an information packet, filled out the application and sent in the money. A Helping Hand took no time at getting things started, our Social Worker called us the first week. While we were finishing up our home study, I was gathering all the paperwork for the dossier. Nightlight has everything you need listed in their packet and what you need to have done to each document. Finally we were ready to send our dossier off to China. March 17, 2000 was the magic date.
Now began the wait or the paper pregnancy. The dossier was sent to the China Center of Adoption Affairs where it would lay for months with other waiting families. When we first started our waiting time was approximately 8 months. Little did we know that there would be a delay, with the number of dossiers the Chinese government were receiving per month. We would not be going to China in Oct. or Nov. like we first thought. This was still God's plan our baby was not born until May 2000 so she was not ready for us. God has the perfect time for everything.

The greatest day in our lives came to us on January 25, 2001 when Andy got the call. "Hello new daddy" the voice on the other end of the line said. Andy was so shaken up that he could not even think straight. Finally he got the details of her name: Tan Wen Qian, her birth date, May 24, 2000, where she was from along with height, and weight. He then called me, I immediately left work and we headed to Lexington. Elizabeth was the most beautiful child in the world and God had picked her just for us. We could not wait to hold her.
We left for China on March 2, 2001. Arrived in Beijing on March 3, 2001 It was amazing. We could not believe that we were doing something like this. We spent that night and the next day sight seeing in Beijing. We got to see the Great Wall, The Forbidden City, and Tiananmen Square. The next morning we left for Changsha, the place where our daughter was born. Elizabeth arrived a little after 3:00 with her nanny. We were at the Dolton Hotel. I thought I would recognize her but I didn't she had changed so much. Julie, our guide called out Elizabeth's Chinese name and pointed to me. The nanny handed her to me and the feeling that I was having at that moment is impossible to describe. There was immediate eye contact with Elizabeth and me. The nanny said something to her in Chinese and Elizabeth laid her little head on my shoulder. The bond happened at that very moment. God was with us to make the transition easy. Elizabeth was destined to be a mommy's girl. She would not have much to do with Andy or Anthony but she was ok as long Mommy was in sight. The rest of the trip went without a problem. AHH has wonderful staff in China to take great care of you. We arrived back home on March 15th to be greeted by a multitude of family and friends. Elizabeth has not had one minute of trouble adapting to be a Chinese/American girl.
– Dawn Barnes
The Hatfield Family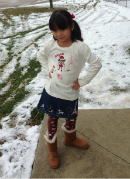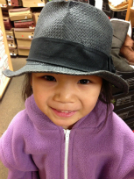 We adopted our precious gift from God,
Karsynn, in 2007. Working with A Helping Hand was an amazing experience!
Throughout the entire process, we never felt alone. The staff at Nightlight was always there to love and support us. From our family advocate to Mike
the "travel guy," we stayed well-informed during our 19 month wait.
Allison, our in-country guide, was AMAZING! She made every fear and
worry just go away! The beautiful thing about it all is that we continue
to stay in touch with Ebbie, Mike, and yes, even Allison. We were led to
A Helping Hand by God.
-Troy and Sammi Hatfield