AHH Travel Services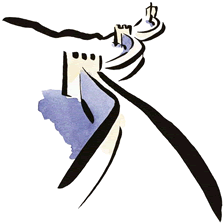 Nightlights (formerly, A Helping Hand) Travel Services was established in the Summer of 2005. Because of the consistent growth in the number of adoptive families and an increasing number of friendship teams traveling to China, this division was created in order to better serve our families and in turn, orphans. The goal is to better prepare families about travel logistics, the paperwork for naturalization and adoption, and the culture and people native to the adoptive child's country.
Our goal is to provide you a thorough understanding of Nightlight policies and procedures so that you are fully engaged when your referral arrives. We are committed to moving all phases of your travel as quickly as we can while always keeping an eye on your bottom dollar. One of the benefits of working with Nightlight is having the expertise of our China office at your disposal while in country. These diligent professionals will be one of the highlights of being in China!
Nightlight Heritage Tours
As your adopted child continues to grow up, you will be faced with many questions:
"Why do I look different from so many people? Where am I from? Where is China? What about Chinese culture and language?" More and more children start to be inquisitive of their birth place and birth country as they grow up. Nightlight would like to invite you to an exiting adventure of exploration of Chinese culture – A Helping Hand Heritage Tours. Heritage Tours offer the chance to bring your child back to his or her birth country, which has 5000 years of history and ancient civilization. We assure you that your children will greatly benefit through this Heritage Tour, and you will find out that this trip is worthwhile to your adopted child, to yourselves and to your family.
A once in a lifetime Heritage Tour enables you:
To help your precious children feel truly proud of where he or she is from;
To have a behind the scene, in-depth cultural touchdown of China;
To mingle into an ordinary Chinese Christian family's daily life;
To study what Chinese students study;
To visit some of the most popular places /tourist attractions in China;
To bridge West and East, modern and ancient;
These trips are tailored for families with children who were adopted from China, arranged and serviced by Nightlight's Kentucky office, Nightlight China workers and professional tour guides. For details, please contact us at [email protected]
Answers to questions frequently asked by families:
How long is the tour and what places will be visited? A typical tour lasts around two weeks. For the first week, the tour will start in Beijing, then Xi'an, and the last stop will be Shanghai. The family will spend two to three days in the child's home province, and then the tour may include visits to a few other well-known tourist spots in China, as requested. The group will be formed according to the number of participants, or individual family travel can be arranged.
Will we be able to visit our child's orphanage and foster family? First, the family will apply at the Provincial Civil Affairs for a visit. Prompt service will occur if one is approved. However, please understand orphanages are not public places and not all the orphanages and the local government allow such visits. Therefore, visits to the child's orphanage and foster family are always subject to individual circumstances and may not always be possible.
How much will it cost? Prices are being adjusted for 2010 and will vary according to tour locations and individual preferences. The estimated basic cost for a typical tour could range between $2000 and $2600 per adult or child twelve and older, and between $1700 and $2100 per child under twelve (The cost may change due to US Dollar rate fluctuation). The cost includes accommodation in 4 star hotels, local air and ground transportation, local tourist site fees, most meals (depending the size of the group), and the charges and basic tips for commercial tourist guides, Nightlight staff and guides' assistance, and drivers. Costs that will not be covered by your basic fee includes your international travel to and from China, meals on your own time, optional activities, extra tips, souvenirs, personal purchases, and optional side trips related to your child's adoption history if they are outside the regular tour group's itinerary.
Is this trip only for families who have adopted through Nightlight? We would like to welcome all families who are interested in Nightlight Heritage Tours, even if they did not adopt through Nightlight.
Sample Itinerary for Nightlight Heritage Tour
Day 01: Beijing
Arrive in Beijing.
Day 02: Bejing
Tour sites & activities:
Mu Tian Yu section of the Great Wall: the eighth wonder of the world and really is awe-inspiring. Mu Tian Yu boasts best scenery and a must-visit-one among locals.
Have Beijing Roast Duck.
Day 03: Beijing
Tour sites & activities:
Temple of Heaven: one of Beijing's most distinctive landmarks.
Tian An Men Square & the Forbidden City: residence of emperors for more than 600 years.
Hutong: in contrast to high-rise, Hutong is dedicated to extensively documenting the disappearing communities and neighborhoods of old Beijing and you will have a chance to take a rickshaw.
Day 04: Beijing
Tour sites & activities:
Home stay at Chinese Christian family: You will learn Chinese cooking and have a first-hand touch and taste of ordinary Chinese people's lives. You are also going to pick up Chinese cooking.
Fly to Xi'an.
Day 05: Beijing/Xi'an
Tour sites & activities:
The Big Wild Goose Pagoda: situated in the Da Ci'en Temple, the temple is a symbol of thanksgiving to one particular emperor's mother for her kindness.
Shanxi History Museum: a comprehensive museum, which has 375,600 cultural relics (large quantities, full categories, high grade, and in excellent order).
City Wall: a history of over 600 years.
Watch Tang Dynasty Music & Dance Show & try Dumpling Dinner at night.
Day 06: Xi'an/Provincial Capital
Tour site & activities:
Terra Cotta Warriors & Horses: the burial site of an incredible army of 8000 lifelike Terra-cotta soldiers, created 2,200 years ago to protect the first emperor of Qin in the afterlife.
Banpo Museum: the site of a "matriarchal clan society" village that dates back around 6,000 years to the Neolithic era.
Fly to provincial Capital.
Day 07: Provincial Capital/Local City:
Travel to the local city either by bus or train.
Day 08: Local City:
Tour sites & activities:
Visit the orphanage: if permission granted;
Have lunch with the orphanage staff: if permission granted;
Abandonment site.
Day 09: Local City
Have a city tour: The tour will be scheduled around local landmarks depending on which local city your adoptive child is from and what it can offer.
Day 10: Local city/Provincial Capital/Shanghai/Suzhou
Tour sites & activities:
Travel from local city to provincial capital by bus or train.
Fly from provincial capital to Shanghai.
Bus from Shanghai to Suzhou.
Day 11: Suzhou
Tour sites & activities:
Tiger Hill & its leaning pagoda: Tiger Hill is a beautiful public garden area. The Leaning Pagoda is the 2nd largest leaning structure in the world.
The incredible Embroidery Institute (optional): a place where Chinese masters create art work with thread.
Humble Administrator's Garden: considered the best of all southern Chinese gardens and representative of Chinese classical gardens.
Day 12: Suzhou/Tongli/Hangzhou
Tour sites & activities:
Silk factory: explore the silk spilling and hand-making of the silk quilt.
Tong-li: a famous water city. You will have chance to see some beautiful canals, classic small bridges and a glimpse into what life was like in older China.
Drive to Hangzhou & stroll around West Lake: one of the most beautiful cities in China and the capital of Chinese green tea.
Day 13: Hangzhou/Shanghai
Tour sites & activities:
Drive to Shanghai: a city where the east meets the west.
Shanghai Bund: It witnesses the historic home of the European and American headquarters in China;
Shanghai Art Museum (optional): It ranks among the world-class and features many fine exhibits including the ancient coin collection, the Chinese furniture, art and especially the Ethnic Minorities exhibit.
Silk carpet factory (optional): visit the workshop exploring the whole process of carpet hand-making;
Bund & Nanjing road: free time and shopping;
Watch acrobatic show at night.
Day 14: Shanghai
Free in the morning. Check out and take flight back to home sweet home.
Itinerary for optional tours
KUNMING-DALI-LIJIANG(5 nights and 6 days)
Day 1: Kunming
Tour sites & activities:
Fly to Kunming: the capital city of China's southwest Yunnan Province. It is also known as Spring City, one of the most popular tourist destinations in China.
Visit Golden Temple: Largest copper temple in China.
Day 2: Kunming/Dali
Tour sites & activities:
Fly to Da Li.
Visit Cangshan Mountain by cable: Cangshan Mountain is one of the four most famous scenic highlights in Dali and provides and fascinating view of lush forest and crystal-clear Er'hai Lake on the Dali Basin.
Visit Shuanglang Fishing Village to sense a peaceful and rustic life of Bai people.
Visit Dali Old Town: A traditional and extremely peasant town built by Bai people in 14th century AD.
Go shopping at Foreigners Street: A favorite place for the overseas visitors to relax.
Enjoy the Three-course Tea Performance.
Day 3: Dali (Lijiang)
Tour sites & activities:
Coach to Lijiang: a bordering city to Tibet and it is famous for its spectacular mountain back-drop.
Visit the Square Market in the center of the Lijiang Old Town. Lijiangis is one of the world's cultural heritages.
Climb up to Wanggu Pavilion for an amazing overall view of the ancient town.
Visit Black Dragon Pond renowned for various pavilions and bridges located in a beautiful park.
Day 4: Lijiang
Tour sites & activities:
Sightsee the Grand Yulong Region including tours to Dongba Valley, Dongba Holy Garden, Jade Pole, Dongba Kingdom, Jade Peak Temple and Jade Water Village. At noon, you'll be invited to a grand ethnic cultural show – Impression Lijiang.
Visit Shuhe Town, quite a cozy village and an ancient trade post for tea caravans between China and the Red Sea.
Day 5: Lijiang /Kunming (Stone Forest)
Tour sites & activities:
Fly back to Kunming;
Visit Stone Forest, a massive collection of gray limestone pillars spilt by train water and eroded to their present fanciful forms;
Visit Colorful Yunnan
Day 6: Fly out of Kunming
CHENGDU (2 nights and 3 days )
Day 1: Chengdu
Tour sites & activities:
Fly to Chengdu, the capital city of Sichuan province.
Visit The Sanxingdui (Three Star Piles) Museum, a cultural relic of the ancient Shu people. A discovery totally changed and shaped original understanding of ancient history and culture in that region.
Day 2: Chengdu
Tour sites & activities:
Visit Thatched Cottage of Dufu,: the combination of both Fan'an Temple in the east and the Plum Garden in the west.
Visit the Giant Panda Research Base: Giant pandas at the Chengdu Research Base live in large naturalistic habitats, which help visitors understand how these animals live in the wild. It is an excellent recreational area and a highlight of any visit to Chengdu.
Enjoy Sichuan Opera after that.
Day 3: Fly out of Chengdu
GULIN (2 nights and 3 days)
Day 1: Guilin
Tour sites & activities:
Fly to Guilin;
Visit Elephant Trunk Hill and the Reed Flute Caves in the afternoon: Elephant Trunk Hill is considered to be the symbol of Guilin City, while the Reed Flute Caves is favored by nature with charming beauty.
Stay in Guilin City at night.
Day 2: Lijiang River Cruise to Yangshuo
Tour sites & activities:
Drive to the Zhujiang Port and then take the Lijiang River Cruise: Lijiang River is world famous for its picturesque sceneries of magnificent mountains and clean water along the river. Lunch will be served on steamship.
Visit Yangshuo and the West Street, the world famous street popular among foreign tourists.
Stay in Yangshuo at night